Idyllic Settings
We are lucky at Rivermead to have half a mile of the crystal-clear waters of the River Fowey flowing through the woodland as it wends its way to the Fowey Estuary and out into open water.
The Fowey River catchment is one of the largest river basins in South Cornwall, draining an area of Bodmin Moor about 177 km2. The main tributaries of the Fowey that drain this area are Cardinham Water, the St Neot and the Warleggan River. From Bodmin Moor, with its high rainfall and many fast-flowing streams, the Fowey runs through narrow wooded valleys down Draynes Valley towards Golitha Falls, a National Nature Reserve which is lovely for walks. The whole of the river in Draynes Valley is a fish spawning sanctuary for Sea Trout and Salmon.
When to Fish
As the river approaches Lostwithiel, it becomes intertidal. Lostwithiel is about 35km away from where the Fowey rises on Bodmin Moor. The river broadens into a wide estuary as it is joined by the River Lerryn and further down Penpoll Creek and Pont Pill Creek where it opens to the sea at the town of Fowey.
The fishing season is open from 1st April and for Brown and Sea Trout runs until 30th September. The river has some of the best late Autumn salmon fishing in England with the salmon season remaining open until 15th December.
Sea Trout Seasons
If we've had rain in the spring, we expect Sea Trout in the Rivermead Beat by April; they're not easy to catch but are well worth a try. Sea Trout trickle through in May with the larger runs happening through June and July, which is when fishing is reserved for guests staying at Rivermead. August can prove tricky with low waters, causing the Sea Trout to spook easily, but small, single-hooked traditional patterns should work well. September usually picks up again, especially if there's rain. Cooler temperatures tend to slow the fishing through the nights but fishing here in the early morning or evenings can be wonderful.
To fish at Rivermead, anglers must have their own EA rod licences in place. Full details of our fishing policy are available in our Welcome Folders when you have booked, and in the Rod Room where you will also find our Risk Assessment.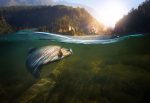 Fishing at Rivermead
Fishing on the River Fowey is an essential when you use one of our stunning rental cottages as your time to escape the busyness of normal life.
Read More